Diversity of gastropods in Kapas Island, Indonesia
Keywords:
Abundance, inertidal gastropods, marine environment
Abstract
Gastropods are one of the constituents of benthic communities in waters and are found throughout the world, ranging from shallow, sandy, coral reefs to deep seas. Gastropods have several advantages, one of the most relevant is that they can be used as bioindicators of pollution. The purpose of this study was to determine the diversity and abundance of gastropods in Kapas Island, Indonesia. This research was conducted for two months on the coast of Kapas Island, Indonesia. Gastropod collection was carried out at 10 observation stations using three transect lines toward the sea and divided into three parts, namely upper intertidal, middle intertidal, and lower intertidal on each transect line. The distance between stations was ~ 150 m. Ninety plots of 1 m2 were set. Abundance and diversity were analyzed qualitatively. Results showed that gastropods consisted of 9 genera and 14 species. Among them, Cerithium sp. had the highest individual abundance (40.15%). The diversity index of gastropods in Kapas Island was 2.07 (medium diversity).
Downloads
Download data is not yet available.
References
Adi JS, Sudarmadji, Subchan W. 2014. The spesies compossition and distribution pattern of Gastropod at Forrest Mangrove Block Bedul Segoro Anak, Alas Purwo National Park. Jurnal ILMU DASAR. 14 (2): 99-110. DOI: https://doi.org/10.19184/jid.v14i2.626
[BPS] Statistics of Tolitoli Regency. 2017. Tolitoli regency in figures 2017. Tolitoli: Statistics of Tolitoli Regency. [accessed 2022 July]. https://tolitolikab.bps.go.id/publication/2017/08/16/c445ce19fb4f2f3c7f00dcdf/kabupaten-toli-toli-dalam-angka-2017.html.
Brower JE, Zar JH. 1990. Field and laboratory methods for general ecology. 3rd ed. Dubuque: C. Brown Publisher.
Bula W, Leiwakabessy F, Rumahlatu D. 2017. The influence of environmental factors on the diversity of gastropods in Marsegu Island, Maluku. Biosaintifika: J Biol Biol Education. 9 (3): 483-491.
Chusna RRR, Rudiyanti S, Suryanti. 2017. The relation of the dominant substrate to gastropods abundance in the Mangrove Forest of Kulonprogo, Yogyakarta. SAINTEK PERI-KANAN: Indonesian J Fish Sci Technol. 13 (1): 19-23. DOI: https://doi.org/10.14710/ijfst.13.1.19-23
English S, Wilkinson CR, Baker VJ. 1997. Survey manual for tropical marine resources. Townsville: Australian Institute of Marine Science.
Hafish NA, Kurniawan R, Probosunu N, Adharini RI, Setyobudi E. 2022. Gastropod diversity in the waters of Lembar Bay, West Nusa Tenggara. Jurnal Biologi Udayana. 26 (1): 45-57. DOI: https://doi.org/10.24843/JBIOUNUD.2022.v26.i01.p05
Haumahu S, Uneputty PA. 2018. Morphometric variation of ten species of Nerita (Molluscs: Gastropods) in rocky intertidal zone of Oma Village, Central Moluccas, Eastern Indonesia. Internat J Fish Aquat Studies. 6 (3): 276-280.
Liline S, Kubangun MT, Kurnia TS, Heremba WNMJ. 2021. Variations in morphometric characteristics of Nerita sp. in Ambon Bay Waters, Moluccas, Indonesia. Internat J Sci Res Methodology. 18 (1): 157-168.
Parorrongan JR, Zahida F, Yuda IP. 2018. Diversity and abundance of gastropods at Seger Beach, Central Lombok. Biota: Jurnal Ilmiah Ilmu-Ilmu Hayati. 3 (2): 79-86. DOI: https://doi.org/10.24002/biota.v3i2.1896
Putri DU, Potoboba F. 2022. Diversity of Starfish (Asteroidea) on the Beach of Bajugan Village, Galang District, Tolitoli Regency. JAGO TOLIS: Jurnal Agrokompleks Tolis. 2 (1): 18-21.
Ratna Sirih HM, Munir A. 2016. The abundance of Gastropods in the Mangrove Ecosystem at Latawe Beach, Napano Kusambi District, West Muna Regency. Jurnal Alumni Pendidikan Biologi. 1 (2): 13-16.
Romimohtarto K, Juwana S. 2001. Marine biology: the science of marine life. Jakarta: Djambatan. p. 540.
Rukmana YTA, Purnomo T. 2019. Diversity and Abundance of Gastropods at Barung Toraja Beach, Sumenep, Madura. Lentera Bio: Berkala Ilmiah Biologi. 8 (3): 150-155.
Sandewi NPD, Watiniasih NL, Pebriani DAA. 2019. Gastropod diversity at Bangklangan Beach, Karangasem Regency, Bali. Current Trends Aquatic Sci. 2 (2): 63-70.
Susintowati, Puniawati N, Poedjirahajoe E, Handayani NSN, Hadisusanto S. 2019. The intertidal gastropods (Gastropoda: Mollusca) diversity and taxa distribution in Alas Purwo National Park, East Java, Indonesia. Biodiversitas. 20 (7): 2016-2027. DOI: https://doi.org/10.13057/biodiv/d200731
Yanti I, Laheng S, Putri DU. 2022. Gastropod diversity on the mangrove forest floor in Binontoan Village, Tolitoli Regency, Central Sulawesi. JAGO TOLIS: Jurnal Agrokompleks Tolis. 2 (2): 41-44.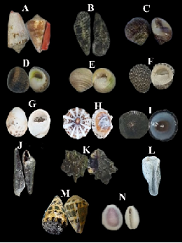 How to Cite
Laheng, S., Utami Putri, D., Wahyui Putri, I. and Miranti (2022) "Diversity of gastropods in Kapas Island, Indonesia", Marine and Fishery Sciences (MAFIS), 36(1), pp. 101–108. doi: 10.47193/mafis.3612023010106.
License
Copyright (c) 2023 Suardi Laheng, Dwi Utami Putri, Ika Wahyui Putri, Miranti
This work is licensed under a Creative Commons Attribution-NonCommercial-ShareAlike 4.0 International License.
Authors of articles published in Marine and Fishery Sciences retain copyright on their articles, except for any third-party images and other materials added by Marine and Fishery Sciences, which are subject to copyright of their respective owners. Authors are therefore free to disseminate and re-publish their articles, subject to any requirements of third-party copyright owners and subject to the original publication being fully cited. Visitors may also download and forward articles subject to the citation requirements. The ability to copy, download, forward or otherwise distribute any materials is always subject to any copyright notices displayed. Copyright notices must be displayed prominently and may not be obliterated, deleted or hidden, totally or partially.
This journal offers authors an Open Access policy. Users are allowed to read, download, copy, distribute, print, search, or link to the full texts of the articles, or use them for any other legal purpose within the Creative Commons 4.0 license (BY-NC-SA), without asking prior permission from the publisher or the author. This is in accordance with the BOAI definition of Open Access.