Kirchenpaueria halecioides (Cnidaria: Hydrozoa): a non-native hydroid in the coast of Buenos Aires, Argentina
Keywords:
Exotic, harbour, early introduction, Southwestern Atlantic
Abstract
Hydroid colonies are among the groups frequently carried and introduced by human actions. Many species have been successfully transported as fouling organisms on ship hulls or in ballast water (pelagic stages) and the sea harbours appear as the places with high probability to detect exotic species. During routinely SCUBA diving conducted in Mar del Plata harbour, Argentina (38° 08′ S-57° 31′ W; May 2005, December 2006, March 2007, and December 2016) clumps of a plumularid were photographed and collected. Hydroid colonies were identified as Kirchenpaueria halecioides, a species frequently reported in tropical and subtropical water from the Southwestern Atlantic, Brazil. Records of mature colonies in 2006 and 2016 suggest local reproduction of this non-native species. Monitoring will be necessary in order to analyse if species colonize neighbouring areas or remain confined to the port area.
Downloads
Download data is not yet available.
References
Bavestrello G, Puce S, Cerrano C, Castellano L, Arillo A. 2000. Water movement activating fragmentation: a new dispersal strategy for hydractiniid hydroids. J Mar Biol Assoc UK. 80: 361-362.
Cornelius PFS. 1992. Medusa loss in leptolid Hydrozoan (Cnidaria) hydroid rafting, and abbreviated life-cycles among their remote-island faunae: an interim review. In: Bouillon J, Boero F, Cicogna F, Gili JM, Hughes RG, editors. Aspects of hydrozoan biology. Sci Mar. 56 (2-3): 245-261.
Cornelius PFS. 1995. North-west European Thecate Hydroids and their Medusae (Cnidaria, Leptolida, Leptothecatae). Part 1. In: Barnes RSK, Crothers JH, editors. Linnean Society of London and The Estuarine and Coastal Sciences Association. 1-347.
Genzano GN, Giberto D, Schejter L, Bremec C, Meretta P. 2009. Hydroids assemblages in SW Atlantic (34-42° S): richness and settlement substrata. Mar Ecol. 30 (1): 33-46.
Haydar D. 2012. What is natural? The scale of cryptogenesis in the North Atlantic Ocean. Divers Distrib. 18 (2): 101-110.
Jaubet L, Genzano GN. 2011. Seasonality and reproductive periods of the hydroid Clytia gracilis in temperate littoral ecosystems. Is asexual reproduction the prime mechanism in maintaining populations? Mar Biol Res. 7: 804-811.
Moura CJ, Collins AG, Santos RS, Lessios H. 2019. Predominant east to west colonizations across major oceanic barriers: Insights into the phylogeographic history of the hydroid superfamily Plumularioidea, suggested by a mitochondrial DNA barcoding marker. Ecol Evol. 9 (23): 13001-13016.
Oliveira OMP, Araujo EM, Ayón P, Cedeño-posso CM, Cepeda AA, Córdova P, Galea HR, Genzano GN, Haddad MA, Mianzan HW, et al. 2016. Census of the Cnidaria (Ceriantharia and Medusozoa) and Ctenophora from South American marine waters. Zootaxa. 4194 (1): 1-256.
Peña Cantero AL, García Carrascosa AM. 2002. The benthic hydroid fauna of the Chafarinas Islands (Alborán Sea, western Mediterranean). Zool Verh. 337: 1-180.
Slobodov SA, Marfenin NN. 2004. Reproduction of the colonial hydroid Obelia geniculata (L., 1758) (Cnidaria, Hydrozoa) in the White Sea. Hydrobiologia. 530/531: 383-388.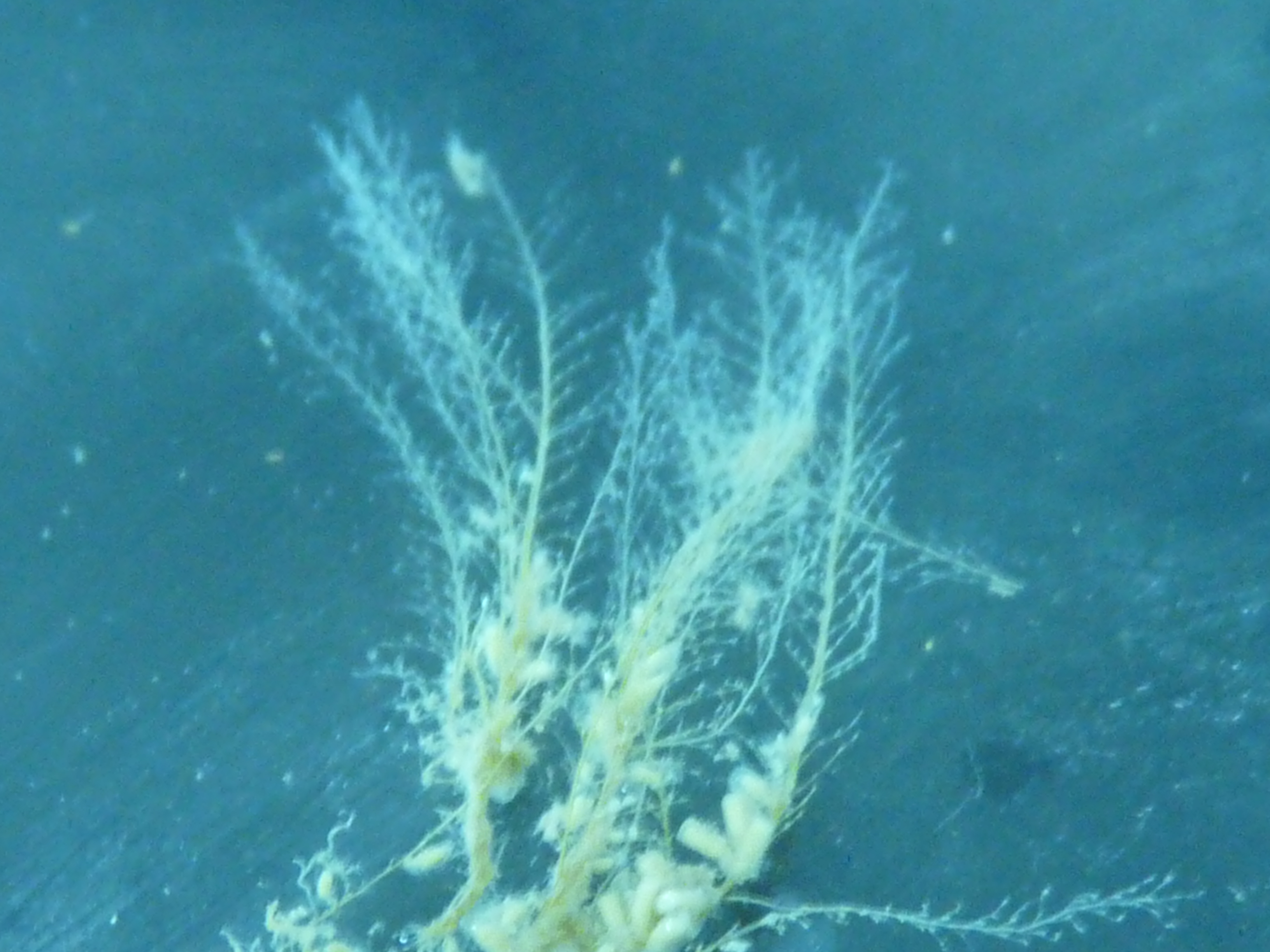 How to Cite
Genzano, G. and Meretta, P. E. (2021) "Kirchenpaueria halecioides (Cnidaria: Hydrozoa): a non-native hydroid in the coast of Buenos Aires, Argentina", Marine and Fishery Sciences (MAFIS), 34(1), pp. 109–112. doi: 10.47193/mafis.3412021010302.
License
Copyright (c) 2020 Gabriel Genzano, Pablo E. Meretta
This work is licensed under a Creative Commons Attribution-NonCommercial-ShareAlike 4.0 International License.
Authors of articles published in Marine and Fishery Sciences retain copyright on their articles, except for any third-party images and other materials added by Marine and Fishery Sciences, which are subject to copyright of their respective owners. Authors are therefore free to disseminate and re-publish their articles, subject to any requirements of third-party copyright owners and subject to the original publication being fully cited. Visitors may also download and forward articles subject to the citation requirements. The ability to copy, download, forward or otherwise distribute any materials is always subject to any copyright notices displayed. Copyright notices must be displayed prominently and may not be obliterated, deleted or hidden, totally or partially.
This journal offers authors an Open Access policy. Users are allowed to read, download, copy, distribute, print, search, or link to the full texts of the articles, or use them for any other legal purpose within the Creative Commons 4.0 license (BY-NC-SA), without asking prior permission from the publisher or the author. This is in accordance with the BOAI definition of Open Access.